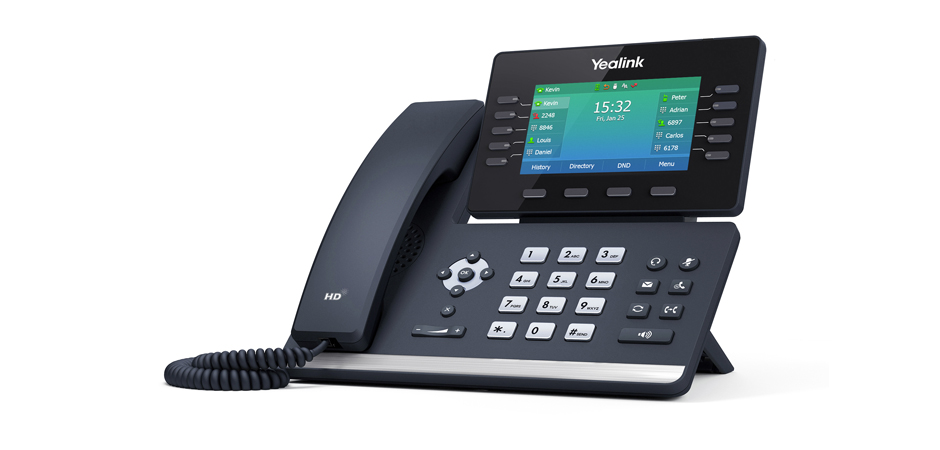 The Yealink T54W Prime Business Phone is designed with today's highly active voice communications in mind, delivering advanced telephony features, a next-generation HD communication experience and great flexibility. The T54W offers businesses of all sizes a high quality, future-proof and unparalleled solution that enables the power of remote communication and collaboration and so help to improve productivity.
The elegant and sleek design of the T54W provides an ultra-clear, backlit, fully adjustable colour display to meet individual viewing requirements at a variety of angles and under a variety of office lighting conditions.
HD voice and Acoustic Shield technology ensures optimal and crystal clear conversations in even the busiest open-plan office. Acoustic Shield technology uses multiple microphones to create a virtual "shield" between the speaker and any 'external sound sources. Once enabled, it intelligently blocks or mutes sounds from outside the "shield" so that the person on the other end only hears you, making a combined Yealink/SelectVoice solution ideal for busy and noisy workspaces and office areas, helping to dramatically reduce frustration and improve productivity.
In addition to built-in support for Bluetooth 4.2 & dual band WiFi (2.4G/5G - 802.11a/b/g/n/ac), you can turn your you T54W into a DECT base station that supports up to 4 cordless handsets via an optional DECT dongle (DD10K). This unique feature provides seamless switching of calls between the T54W and the cordless DECT handsets.
Adjustable 4.3" 480 x 272-pixel colour display with backlight
Built-in Bluetooth 4.2
Built-in dual band WiFi (2.4G/5G - 802.11a/b/g/n/ac)
USB 2.0 for wired/wireless USB headsets and EXP50
Each EXP50 Expansion Module adds 60 more Favourites/BLF/Feature keys (3 pages of 20). Up to 3 expansion modules can be added
27 one-touch Favourite/BLF keys
Integrated with the SelectVoice system directory
HD Voice with Acoustic Shield technology
3-way conferencing
Dual Gigabit network ports with integrated PoE
HAC Handset
Corded-Cordless mode (optional via DD10K adapter)
Paperless label design
Wall mountable (option)